My garage is "stuffed"! stuffedgarage.com
Local pickup in Seeley Lake, MT or free delivery
to Missoula. Call me (Andy) at 386-882-1408
or email me at:
FedEx shipping in USA

The Lord of the Rings
The Two Towers 2-Disc DVD Set
2-Disc Widescreen Edition
Brand New Sealed in Shrink-Wrap
Price
$9

The Lord of the Rings: The Two Towers is a seamless continuation of Peter Jackson's epic fantasy based on the works of J.R.R. Tolkien. After the breaking of the Fellowship, Frodo (Elijah Wood) and Sam (Sean Astin) journey to Mordor to destroy the One Ring of Power with the creature Gollum as their guide. Meanwhile, Aragorn (Viggo Mortensen), Legolas (Orlando Bloom), and Gimli (John Rhys-Davies) join in the defense of the people of Rohan, who are the first target in the eradication of the race of Men by the renegade wizard Saruman (Christopher Lee) and the dark lord Sauron. Fantastic creatures, astounding visual effects, and a climactic battle at the fortress of Helm's Deep make The Two Towers a worthy successor to The Fellowship of the Ring, grander in scale but retaining the story's emotional intimacy. These two films are perhaps the greatest fantasy films ever made, but they're merely a prelude to the cataclysmic events of The Return of the King. --David Horiuchi

Credits:
Directors: Sean Astin, Peter Jackson
Actors: Elijah Wood, Ian McKellen, Viggo Mortensen, Orlando Bloom, Bruce Allpress
Studio: New Line Home Entertainment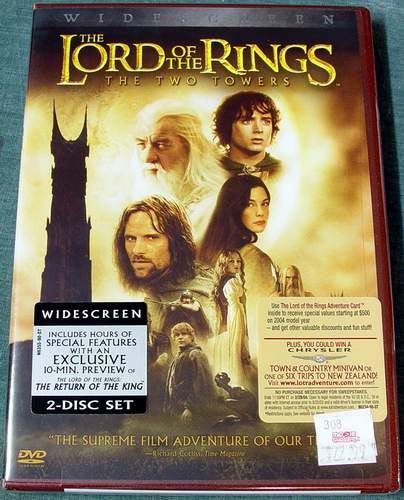 Format: Anamorphic, Color, Dolby, DVD, Widescreen, NTSC
Languages: English (Unknown), English (Subtitled), Spanish (Subtitled), English (Original Language), English (Published)
Rating: PG-13 (Parental Guidance Suggested)
Region: 1
Discs: 2
Aspect Ratio: 2.35:1
Running Time: 179 Minutes

MPN: 794043635526
ISBN: 078064333X
UPC: 794043635526

Theatrical Release Date: December 18, 2002
Release Date: August 26, 2003
With Special Features:
Includes hours of Special Features with an Exclusive 10-minute preview
of The Lord of the Rings: The Return of the King.

I accept CASH ONLY for local pickups; PayPal or postal money orders for shipped packages.
call me (Andy) at 386-882-1408 or email me at:
I'm in Seeley Lake, MT
This item is still available if you can see this listing. I will remove it when it sells.